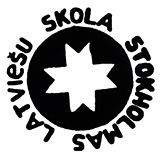 Latvian School in Stockholm
09.10.2015


---
The Latvian School in Stockholm is a non-profit organisation. Its aim is to teach the Latvian language for the children living in Sweden, as well as to give them knowledge about Latvia, Latvian nation and culture. The school organises regular lessons and other activities.
The Latvian School in Stockholm is ne of the oldest Latvian weekend schools outside Latvia. The school as a cooperative of parents exists and has been actively working since 1953. On the basis of the school is inexhaustible parents' participation in the work of the school. For already many decades the premises of the Latvian School in Stockholm are in Stockholm's Old City.
The school gets financing from the school payments for every child and gets support from the Association of Latvians in Sweden. During last years with the help of the Union of European Latvians it has been possible to apply and get financial support for the school's work also from Latvia.




The Latvian School in Stockholm is a branch of the Association of Latvians in Sweden. The work of the school leads the Board that consists of at least four members. The Board members divide the responsibilities themselves, choosing from among members the Chairman, cashier and secretary. The school's manager is responsible for the school's work and he is also the Board member.
In 2015 the Board of the Latvian School in Stockholm consists of 8 people. The Chairwoman of the Board is Aira Miķelsone. The manager of the Latvian School in Stockholm is Ieva Reine.



Activities

Children from the pre-school age until the grade 8 attend the Latvian School in Stockholm. Under the wing of the Latvian School in Stockholm works also the kindergarten.
At the moment school has more than 90 pupils at the age from 2 to 14 years. The lessons take place on Saturdays. The school gathers children to develop their Latvian identity, teach and strengthen Latvian language, literature, geography, history and Latvian traditions. The lessons in school provide the Latvian speaking environment, teach and strengthen friendship bonds between Latvian children and youth.

Several traditional events are organised during the school year – Martin's Day, Latvia's Proclamation Day's celebration on November 18, Christmas, Shrovetide, Easter, Family Day and conclusion of the school year. Children parents organise the events. The important tradition of the school is to give special gift for every school-leaver, who has finished 8 learning years – silver Namejs ring.
During the school year traditionally several events outside school are organised – educational excursions, common visiting of sports events and picnics, promoting the possibility to be together with families and friends, to spend free time usefully and to strengthen Latvian language knowledge in common conversations. One of the Latvian School in Stockholm traditions is to invite the guest of the month – cultural or educational worker from Latvia, school's former pupils, teachers and adults.



Contacts

School's address: Storkyrkoskolan, Svartmangatan 20/22 , Stockholm, S-111 29

The manager of the Latvian School in Stockholm Ieva Reine
E-mail: ievareine@hotmail.com

Phone: 46 07 0177 2458

Home page:

http://www.stokholmaslatviesuskola.se

http://www.facebook.com/pages/Stokholmas-Latvie%C5%A1u-skola/222113277801009