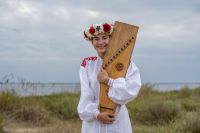 The Golden Kokles in the hands of Rozīte - Love songs in the candle light by the fireplace
07.03.2020


---
The Riga Latvian Society invites to a concert "The Golden Kokles in the hands of Rozīte - Love songs in the candle light by the fireplace".
Saturday, March 7, 2020 at 19.00 in Riga Latvian Society Fireplace Hall.
Everyone, who loves folk music and beautiful Latvian folk songs is invited to listen to the music in a great acoustic, beautiful venue and an ambient atmosphere.
In the gentle candle light you will have the opportunity to listen to the Latvian traditional musical instrument Kokle played by Rozīte Katrīna Spīča. Rozīte is a multiple winner of the National competition of the folk musicians, and one of the best Kokle players in the country.
During the concert we will hear folk songs from different regions of Latvia and will have the opportunity to enjoy the kokle improvisation and at least for a moment try to switch of the hectic daily rhythm.
Her teacher, Dina Liepa, says: "Rozite is an intelligent musician, she uses rarely seen playing techniques. While looking at her hands, her fingers seem to flash. "
About the instrument itself, Rozite, who plays kokle from a very young age, says: "Although kokle is seen as a tool that you can use to meditate while on your own, I am most excited to feel the sound of the kokle while being with others."
Tickets' price before the event: 3,00 EUR
(You can purchase your ticket at the front desk in the Riga Latvian Society House every day 9-17)