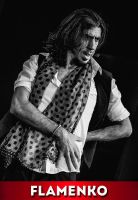 RUMI FEST
28.09.2018


---
Sebastian Sanchez is a Spanish flamenco renowned and reputable dancer in many countries of the world. Sebastian presents to the audience his concept of "flamenco puro" (authentic flamenco). Flamenco is an ideal combination of art, passion and mathematics. And Sebastian is one of those, who know its formula. His art-projects make audience feel and enjoy the real magic of flamenco, as if they came to Spanish Andalusia – the most heart of flamenco art.
ART-GROUP FLAMENCO, created under the guidance of Sebastian Sanchez, consists of young and very talented artists, and for each of them Flamenco became the passion and the true voice of their hearts.
SEBASTIAN SANCHEZ (DANCE)
Sebastian Sanchez is a renowned Spanish flamenco dancer, teacher of Flamenco, author and leader of flamenco art-projects, co-founder of the project "FlamencoAndalu" in Russia. Sebastian has performed numerous times at flamenco festivals in Russia and Finland, scored leading roles in dance shows in Spain, Germany, Australia, Scandinavia, Baltic States, Russia and Belarus.
Elena Taskaeva was recognized as one of the best flamenco dancers in Russia. Elena is a professional dancer and dance teacher with rich and many-sided experience of working in different dance and theatrical projects. In 2007 together with her colleague Katerina Oparysheva she opened the school "Barrio Flamenco". Since 2013 she has been running the project "FlamencoAndalu" in co-operation with Sebastian Sanchez.
TATIANA SHISHKOVA (VOICE)
Tatiana Shishkova is a professional singer, vocal coach, vocalist in the bands "Marimba Plus", "Flamencura", she is a marvelous singer of Spanish flamenco, and a virtuoso singer of world music. Tatiana works in the genres of flamenco and Latino: rumba, salsa, bossa-nova, she has a vast experience in working with flamenco musicians and dancers from Spain, Argentina and Mexico.
VLADIMIR SLOBODIN (GUITAR)
Vladimir Slobodin is one of the best guitar players in Saint-Petersburg, working in a quite difficult genre of flamenco. Acknowledged by professionals and audiences, he can play any melody, as if it were played by a native Andaluzian.
Vladimir Slobodin has taken part and is still participating in stage productions "Frida" and "Joan of Arc", "Picasso", in the project "El Tebi". Numerous times has taken part in international flamenco festivals.
Tickets: www.bilesuserviss.lv