The Riga Latvian Society (RLS) is a voluntary, independent public cultural organization, founded in 1868, whose activities have been resumed on January 14, 1989.

The Riga Latvian Society has 407 members (01.02.2020.), including 8 RLS honorary members - Guntis Ulmanis, Vaira Vīķe-Freiberga, Andris Kolbergs, Ēriks Hānbergs, Viktors Hausmanis, Raimonds Pauls, Pēteris Vasks un Jānis Streičs.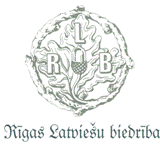 The Riga Latvian Society
Organizes: meetings, open lectures, conferences, debates, concerts, different performances and social gatherings;

Publishes and distributes books, magazines, periodicals, and other printed materials;

Celebrates National holidays, organizes events connected with national traditions, notable public, science and culture personalities' jubilees and different other kinds of events;

Supports the formation and activities of different amateur and professional groups;

Makes its own archive and has its own library;

Gives suggestions to the state and local government institutions concerning educational, cultural and other, with the RLS work, connected questions;

Allocates financial incentives, grants and benefits for the implementing of society's aims;

Develops the economic activities, and uses the income to achieve the aims stated in the RLS statutes.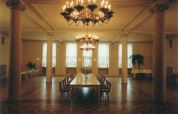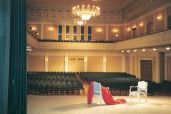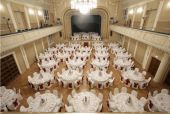 To achieve its aims, the RLS collaborates with all the state and local government institutions, with public organizations and private persons in Latvia and abroad.

The RLS acts according to the Latvian and humanism principles.

RLS is managed by:
General meeting of the RLS members that is the higher judging structure;

Board (7 people, including the RLS chairman and and vice-chairman).

The RLS works according to the rules and statutes of the Republic of Latvia, registered on April 26, 1938, with a number 18467 by the Ministry of public affairs. The RLS is a legal person with its legally registered statutes, its own seal with an inscription "Rīgas Latviešu biedrība" (Riga Latvian Society), with independent balance, its own bank account, and movable and immovable property. The juridical address of the Riga Latvian Society is Merķeļa Street 13, Riga, LV-1050, Latvia.

RLS has its own symbols that are affirmed in the RLS members' General Meetings and that can be made and used according to the regulations worked out by the council of the society.