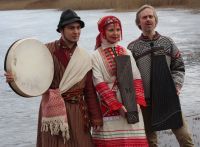 Finno-Ugric Day 2019
28.09.2019

On Saturday, 28th September 2019, at 18.00-20.00, in the Riga Latvian Society House, Merķeļa Street 13, we will meet in Finno-Ugric Days' mood!
more ...
---
RIGA LATVIAN SOCIETY OFFERS PREMISES FOR DIFFERENT EVENTS
31.12.2014

The luxurious, historic building and the professional specialists, who have large experience in organizing different kinds of events, invite you to become our clients and collaboration partners.
more ...
---